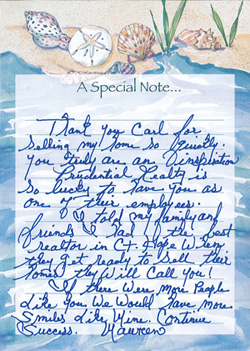 <!DOCTYPE HTML PUBLIC "-//W3C//DTD HTML 4.0 Transitional//EN"> Carl Guild did an excellent job selling my house. He is thoroughly knowledgeable about the housing market and very professional. He is equally friendly and helpful. Carl was always available to respond to my questions and concerns immediately, and he provided me with feedback after every showing. Throughout the entire selling process I felt that my house was the most important listing Carl had. He was the perfect agent for me because I was a nervous and anxious seller and his unwavering optimism and confidence and support were very helpful. His suggestions for staging the house were excellent, and the photographs he took of both the interior and exterior of my house for posting on line were superb. Carl was there to support me throughout the entire selling process from the day we met and reviewed the market analysis he had prepared for my house to the day of the closing and even after the house was sold.
- Alice Tucker
When evaluating Realtors to partner with, we were looking for a true professional, someone who would put our interests first and someone who would give us the advice we needed to hear. We found all of those attributes with Carl Guild. We handed Carl quite the task, sell our 200 year old historic home and find us a brand new one within our budget and in the location we desired most. From the beginning, Carl helped us to set realistic goals for both properties. His understanding of the markets was critical to making sure our home was positioned appropriately for sale. When it came time, his experience in negotiating with buyers and giving timely advice proved to be invaluable. As is the case when selling any older home, there were many times when he kept us calm and kept us focused on the ultimate goal, which was SELLING OUR HOME! Carl has a tremendous passion for this business and that was evident each time we spoke. We are extremely grateful for Carl's guidance in both of our real estate transactions and his persistence to see our goals through to the end.
- Erin & Ryan Gardner
Carl did an amazing job selling our condo! He was by our side as we made decisions with regard to updating our condo to enhance its marketability….guiding us as to what buyers in today's market are looking for in a home. He even came with us to look at countertops. For anyone looking for professionalism and commitment to his clients, you won't find anyone better than Carl! He makes you feel as if you are his only client and he is always available to answer your questions or quell your concerns. Our condo was sold and closed in less than two weeks…you can't ask for better than that. We highly recommend Carl for all of your real estate needs!
- Joan & Stan Stasiak

Carl was the BEST!! He priced our home right on and we sold rather quickly in this depressed market. We worked with a different agent from another company previously and for a whole year had no progress. We switched to Carl and Success!!! He also never gave up, he guided us through a very difficult buying process and now we have a beautiful home!! He was a calming voice when we thought we wound never find a house. What was most memorable about our experience was the day Carl found our new home! HE called me with in a couple of hours of it going on the market and by that afternoon he went out and looked at it for us, that evening we were all looking at this amazing house. By the next day we put in an offer. With out Carl's dedication someone else would have jumped on this house and we would have missed out. The other most memorable is closing and moving in! It was a rough road for the purchase due to a title issue but Carl fought right along with us to get it resolved. He was always on our side and was our biggest asset!!
- Deb & Ryan Coats
Carl helped me through a tough transaction, and a tough time in my life. Certain life circumstances led me to face foreclosure and have to sell my home for much less than what I owed. Carl was able to help me get out very quickly and avoid foreclosure by doing a short sale where the bank approves the sale of the home for less than what I owed. I cannot thank Carl enough for his expertise, willingness to help, and compassion in a very trying time.
- Eric Lang
I have felt very confident using Carl as a realtor to sell my home.  I have used him to both buy and sell my home.  Carl is very easy to deal with and I was able to build rapport with him quickly.  I felt confident and could rest easy knowing that he was handling all aspects of the sale of my home in the most professional way possible.  He is very good at what he does and knows the industry well.  He was always quick to respond to any questions I had, whether it be by phone or email, no matter what he is doing, or how busy he is.  He has a way of making the whole process very smooth and easy. The bottom line is that I trust Carl and that is a hard thing to find today.  When I buy again, I will definitely use Carl as a realtor.
- Stephen Williams
Buying a foreclosed property was a daunting task especially as a first time home buyer.  With Carl's knowledge and experience he was able help me find the perfect place and also negotiate and deal with the ins and outs of buying a bank owned property.  Carl was always available to answer my questions and always looked out for my best interest.  Carl is simply the BEST real estate agent!
- Matt Siena
It was especially helpful that Carl was adept at using up to date technology not only to help find my home, but to communicate with me.  Without the use of email, text messaging, cell phones, the internet, and of course GPS, finding a home would have proved much more difficult and time consuming.  I'm not sure that every realtor out there would have been able to communicate with me on the same level or with the same swiftness that only today's technology can provide.
- Wayne Curtiss
Service provided by Carl was faultless! We wouldn't hesitate to recommend or use Carl in the future - extremely satisfied. We've said many times what a great experience it was working with him. Very much appreciated considering the stress of a big relocation. We felt like we sailed through it with his expertise and guidance.
- Lisa & Simon Mendum
CARL IS THE BEST REALTOR EVER! It's hard to beat his professionalism, reliability and confidence when it comes to buying a house. As a first-time home buyer, I was not sure of what to look for in a house, except for aesthetics. But Carl stepped in precisely where I needed him. He pointed out the good things and the bad things, and even the worst things for each house we visited. He was helpful every step of the way, right into the closing, which made all the difference in my home-buying experience. He answered all questions to the best of his ability, and most importantly, he answered all questions honestly. It was assuring to know that he truly cared. Carl provides for a calm and sane house-hunting experience, and I would recommend him to anyone considering buying a house.
- Harminder Singh
When I became interested in finding a home in the Portland area I was looking for a registered buyer's representative who lived in and had knowledge of the area. Carl not only met these criteria but was always available to take my calls and went out of his way to quickly find answers to my questions.
- Jeffrey Cominotti
Working with Carl made things very easy. He never made me feel pressured or tried to persuade me one way or another. He always accommodated my schedule and offered valuable and honest input on my choices. He was very informative and answered all of the questions I had, never making me feel rushed or unimportant. I would recommend him to anyone looking to sell or purchase their new home.
- Nadine Sanfilippo
I have known Carl Guild since I was young, and I never imagined that he would be helping my husband and I buy our second home in Connecticut. I am so glad that I asked him to start helping us look, because he has been extraordinary! We first bought our new home in February, and the home still had three months to go to be finished. Buying a newly constructed home can be difficult, and Carl has helped to keep the stress off of us, and to still get us everything we wanted. As a realtor, he has not only assisted in finding us a home, but has gone the extra mile to make sure that the paperwork is always in order, and has made that important phone call when needed. He is always by the phone ready to help, is quick, efficient, and great to work with. My husband and I have been so impressed with his work, and are so happy that we have had him to work with, not only as a friend, but also as a professional. Thank you Carl!
- Kate Adams
Not only did Carl get us everything we wanted (and under budget) on our new house, but we also got asking price in record time on the sale of our condo! We felt like we had a friend and guide with patience and know-how while looking at houses, and not a pushy salesman. We know Carl did everything in our best interest - and we will never use a different agent! Thanks Carl!!
- Adam & Lisa Wolfe
As a first time home buyer I had many questions and concerns. Carl eased my mind, providing answers to my questions, helping me explore my options, advocating for me, and keeping me informed throughout the experience. He remained hopeful and optimistic throughout a long process, even when I was beginning to get discouraged. Purchasing my new home was the best decision I could have made and it went a lot smoother knowing that Carl was working for me.
- Shelly Nolan
We want to thank you for the splendid job you did in selling my brother's home. We were so delighted when we received an offer after only three weeks on the market! Working with you has been wonderful; you made the sale of the home very pleasant from start to finish. Thank you for a professional and positive experience!
- Sue Anderson and Family
Carl sold my condo for asking price in a very tough market, where comparable condos were going for $15,000 less! He is an excellent agent - professional, knowledgeable, top notch!
- Andrea Duprey
Thank you so much for helping me find a home that is perfect for me. You listened to what I was looking for and you took the time to help me find it. I am very happy with my condo. Thanks again!
- Marie Canfield

Dear Carl,

We are writing this letter to give you a ringing endorsement for the skill and dedication with which you helped us sell our house last year. Mark was relocated from Connecticut to Pittsburgh by his company, Westinghouse, in February of 2014. The move was complicated by the fact that we were dealing with a relocation company.
We interviewed two highly recommended realtors who knew the area Portland well – and you were by far head and shoulders above the competition. Additionally, you had experience working with other relocation companies – which was a big plus.
You gave us invaluable recommendations on final updates to the house you thought we should make, and set a really good price for our home. One of the biggest benefits we got from working with you is the gorgeous pictures you took of our house for the Berkshire Hathaway and Realtor.com web sites. Having looked at other listings, the pictures you took of our house were so much better and more professional than 99% of the others.
Our house was on the market for only a few days when we got our first serious offer. And then, almost immediately, we got a second offer. You handled the situation skillfully and to our best advantage and we ended up accepting an offer that was more than our asking price.
After we accepted the offer, you remained available to us to answer questions or just give reassurance. We had a few bumps on the way to the closing a month later – and you handled the buyers with a combination of patience and firmness, which was just right. And you made sure that all the "i's" were dotted and the "t's" crossed when it came following the processes the relocation company required and making sure that the paperwork was completed (you even helped the buyer's agent with her paperwork).
The cherry on top was that you even followed up with us after we had moved into our new home. We had the best experience possible working with you, and I only wish that the realtor we had in Pennsylvania was as easy to deal with, and as caring and knowledgeable as you.
Best regards,
Mark and Deborah Kantrowitz

March 18, 2010
It is with great enthusiasm that we write this character reference for Carl Guild. We first became acquainted with Carl in October 2009 when responding to an ad for a new construction that he had listed. It was a Friday night and we called the number on the listing, anticipating leaving a message and having our call returned during "routine" business hours. Within minutes, Carl called us back and it was in that instant, we knew our dealings with him would be anything but routine.

Carl helped us to list our property and gain as much exposure as possible in a tough real estate market. We knew listing our property in a usually slow time of the year was not going to be an easy thing, but Carl was there to keep us calm every step of the way. He was always receptive to our questions, comments, and concerns, no matter how small or anxious they may have been. Within minutes of contacting him, he was always there with a reply or just reassurance that we were on the right track.

Our new home entailed a great deal of coordination between us and the builder. Without fail, Carl was there every step of the way. From advising us of wise choices in making some upgrades to even shopping for our cabinets with us, we knew we would always have an honest and educated opinion with Carl by our side. lf we had an inquiry for the builder, he was right on it and we usually had a reply within the same day.

We could go on and on about the help that Carl gave us during this whole process and it still would not serve due justice for the superior service, advice, and attention to detail he was able to provide. Businessdictionary.com defines professionalism as, "Meticulous adherence to undeviating courtesy, honesty, and responsibility in one's dealings with customers and associates, plus a level of excellence that goes over and above the commercial considerations and legal requirements." While we believe this is an accurate definition, in our eyes, it can be defined in two words: Carl Guild.

In the future, we undoubtedly would recommend Carl to anyone looking for success in their real estate transactions.

Sincerely,
Jamie and Shane Owen